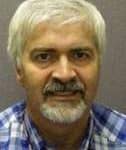 In-House or Contracted Oil Analysis with Bryan Johnson
We're thrilled to have the chairman of ICML, Bryan Johnson, with us. He's worked at the Palo Verde Generating Station for 30 nearly years as a lubrication engineer. Bryan's also involved with ASTM, starting about three decades ago. That was due to the creation of an on-site oil testing lab. This became a subcommittee that deals only with the condition monitoring of lubricants.
In this episode, we covered:
What are the benefits of on-site oil analysis?
How do you know you're getting consistent results from an analysis?
What are the standards to follow?
And much more!