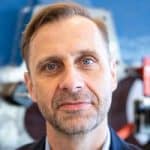 Machinery Installation: Integrity with Roman Megela
We're excited to have Roman Megela joining us. He's a senior reliability engineer with Easy-Laser. Before that, he was a service manager, and he also worked in the service engineering field. Roman's primarily worked with rotating equipment for over 20 years. He's dealt with glass production and stainless-steel production.
He's also been involved in oil and gas, mainly dealing with oxygen gas compression systems. He dealt with blowers, compressors, fans, and pumps for oxygen production, among others. Roman's career specialty, however, lies in machinery installation, assembly, and their placement. He's also been a commissioner for oil and gas, commissioning these globally in areas such as the US, Asia, Singapore, and Europe.
Roman will give us insight on:
What machinery installation is
Why proper machine installation is important
What integrity is and how it can apply during machine installation procedures
… and so much more!