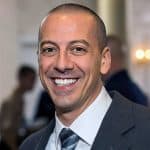 278 – Maintenance Task Analysis with Lucas Marino
Welcome Lucas Marino to the podcast. Lucas is the founder of East Partnership and initially spent a lot of time as an engineer with Coast Guard starting off as a diesel engineer and rising through the ranks. Today's topic is maintenance task analysis. But first:
In this episode we covered:
What is the East Partnership?
What is maintenance task analysis?
So it involves everything needed to maintain an asset, correct?