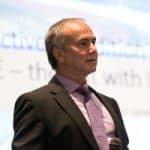 274 – Dealing with Ramp Up and Degraded Assets with James Reyes-Picknell
Welcome James Reyes who is the author of Uptime and many other books, also a principal consultant at Conscious Asset. More about James:
Having a career that spans for 44 years, James has worked in different organizations and industries some of which include reliability on board both at sea and air. The guest began a reliability consulting career in 1995 focusing on the execution of reliability programs.
In this episode we covered:
What types of Issues are companies going to face?
How do organizations reduce the risks of these challenges?
Do you believe organizations are still hunkered down?