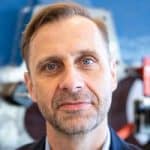 Machinery Installation: Planning with Roman Megela
It's a pleasure to have Roman Megela from Easy-Laser join us on this deep dive into Machinery Installation. He's worked with rotating equipment for over 20 years, particularly in service, installation, assembly, and commissioning for gas compression, glass production, and stainless steel. So far, we've looked into how strategy and integrity fall into the Machinery Installation process. We'll now get a look into the role Planning plays in Machinery Installation.
Roman will give us insights on:
What is Planning?
Are there technical specifications for planning?
How does Planning impact installation?
… and so much more!