Chris Jackson
Chris Jackson can help you with a range of reliability engineering issues and problems.
Chris has a PhD in Reliability Engineering and has been the Director of UCLA's Center for Reliability and Resilience Engineering (CRRE) … so he can help you with the higher-level theory of reliability probability, modeling and statistics.
He was an officer in the Australian Army where he (amongst other things) led hundreds of engineers and technicians to support multi-million dollar fleets of equipment … so he knows how the operational management side works.
He has also consulted to many clients for many different issues … so he knows about organizational reliability management issues.
Chris has been a project manager for a number of government projects … which means he is well versed on the realities of materiel contract management. He has published multiple textbooks including Reliability Engineering and Management.
He founded UCLA's Center for the Safety and Reliability of Autonomous Systems (SARAS … www.saras.ucla.edu)
If you want to email Chris …
---
Chris writes the Reliability in Emerging Technology series.
The only thing that doesn't change is change itself. We are constantly exposed to new and better products, services that are more efficient, and things that generally make our lives better.
But how long will they work for? … and will they be safe?
---
The Probabilistic Physics of Failure Approach to Reliability book presents highly technical approaches to the probabilistic physics of failure analysis and applications to accelerated life and degradation testing to reliability prediction and assessment. Beside reviewing a select set of important failure mechanisms, the book covers basic and advanced methods of performing accelerated life test and accelerated degradation tests and analyzing the test data. The book includes a large number of very useful examples to help readers understand complicated methods described. Finally, MATLAB, R and OpenBUGS computer scripts are provided and discussed to support complex computational probabilistic analyses introduced.
---
Reliability Engineering and Management is a textbook that covers both the engineering and management elements of reliable systems. Reliability is an inherently complex field of study, and it is not easy to apply technically or manage practically. This textbook is aimed at both the managers of reliability teams and reliability teams themselves. Many historical catastrophes caused by human-made systems failing are caused by organizational shortcomings. Systems ranging from the Space Shuttle to the Deepwater Horizon did not fail because of a lack of understanding of the physics – they failed because of managerial decisions. So structuring the organization to ensure reliability is as essential as reliability engineering itself.
This textbook also covers the key concepts that reliability engineers need to know to undertake their jobs. It includes sections of probability and statistics (including the Weibull distribution) through to modelling (at both component and system levels). It examines the hardware, software and human domains of systems, and how they need to be considered in combination. It also covers how to assure reliability, and what Design for Reliability (DfR) activities should be employed and when (such as FMECA and RCM).
---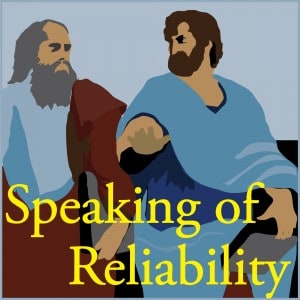 Chris is one of the co-hosts of Speaking of Reliability. Where you can join friends as they discuss reliability topics. Join us as we discuss topics ranging from design for reliability techniques, to field data analysis approaches.
---
Chris has a monthly series of events in the Accendo Reliability Webinar Series.
Let's have an in-depth discussion during the live webinar series events: Reliability Engineering Basics, Statistics, Accelerated Testing, Program Assessment, and Improvement. Catch up or review past events below.
To attend an upcoming live event, visit the Live Events section of the site, which lists the available upcoming webinars. Recordings are available via recorded videos or audio only via the podcast show.
---
Christopher's author archive lists contributions of articles and episodes.
Ask a question or send along a comment. Please login to view and use the contact form.