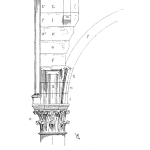 In the previous Learning From Failure article, we reviewed that chloride stress corrosion cracking (Cl-SCC) of stainless steel readily occurs at temperatures above 140°F (>60°C) when exposed to aqueous (water-based) chlorides.  Although the most attention is given to corrosion from product exposure, Cl-SCC can also occur from the external surfaces as a result of corrosion under insulation (CUI).  Here is an example.
After an insulated buffer vessel containing 176°F (80°C) alkaline polymer leaked, weld repair efforts only opened up additional, undetected cracks within the surrounding area.  The vessel comprised of ASME SA-240 Grade 321 stainless steel.  It had been in service for fifteen years, located at the Gulf of Mexico coastline and exposed to sea air.
Panels from the affected region were cut out from the vessel and shipped to Steel Image.  Examination found a high density of branched cracks above and throughout a series of stiffener rings.  Optical microscopy and energy dispersive spectroscopy (EDS) analysis identified the cracks as chloride stress corrosion cracks (Cl-SCC).  Cracking had originated from the external, insulated surface which meant that failure was from corrosion under insulation (CUI).
No quality issues with the shell material or welds were observed.
Cl-SCC of austenitic stainless is caused by the tirade of aqueous chlorides, temperature and stress.  Yet for CUI, the biggest factor to remember is "aqueous" which is just a fancy term to say "water".  The jacketed, insulated surface should be dry and never exposed to water.  Without water, you can add as much dry salt as you want, steel won't corrode.  Therefore, the primary cause of CUI and the resulting Cl-SCC is due to water/moisture getting into the insulation.
The buffer vessel failed because the insulation jacketing had not prevented water from getting into the insulation.  Once water/moisture wetted the insulation and vessel surface, the combination of temperature, stresses and wet chlorides caused Cl-SCC.  The Alkaline polymer solution temperature of 176°F (80°C) meant that ample heat was available such that even low levels of aqueous chlorides would eventually cause Cl-SCC.  The chlorides contributing to the cracking were presumed to have been from either the sea air and/or leaching from the insulation.  The support ribs tend to be the worse affected areas as water collects/pools on top of them, keeping the insulation wet for longer.
Learning From Failure Series – You can learn a lot from failure… but it is way better to learn from someone else's failures!  LFF uses past failure analysis cases to share lessons learned and review practical aspects of common damage modes suffered in the refining and petrochemical industries.