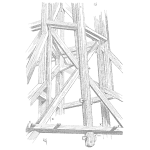 Thems that die'll be the lucky ones.
~ Robert Louis Stevenson
This post is a continuation of the series "Is the HALT a Life Test or not?"
Test two samples and demonstrate reliability R=0,99 over a lifetime with CL=0,99. This is real. But what payment will we pay, besides the duration of the test on triple lifetime, which can be significantly accelerated by the way?
In a HALT, we spend supplies of the product on stresses. HALT is a very hard test. We will pay with increased supplier risk for the result.
A product must have large reserves under stress to pass such a test. Large reserves have an increase in weight. If the reserves under stress in HALT are small, then we will have to do redesigns and, if necessary, retests. And if the design changes are very expensive, then payment for high supplier risk will be high. Also, we may not meet the Time to Market.
Note that tests like HALT are the foundation for certification of aircraft engines now. We can make an aircraft engine 10% lighter if we can avoid this Dark Side of the HALT which is not usually considered.