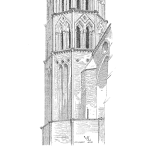 I recently presented a webinar for SMRP and Empowering Pumps, on the title above. There were several questions, post-presentation, that I felt were worthy of expanding on in the form of a blog.
Question #1 (of a total of 5)
Do we need to categorize the RCAs (based on actual/potential impacts) to decide on the need for the depth of RCA up to Latent Roots? Are all Failures supposed to be analyzed until we reach Latent Roots?
Response: Great question! First off, no company I know of on earth can afford to do a full blown RCA on every 'failure' (or you may see me using that term synonymous with 'undesirable outcome'), nor should they. There are simply not enough resources to be able to this effectively.
So this gets back to the first part of this question, how do we determine the depth of analysis needed for any individual undesirable outcome.
In Figure 1, I show a hazard matrix that we use in our PROACTOnDemand Investigation Management System. This is an agnostic or neutral RCA solution that is not RCA methodology dependent.
In what we call our 'New Analysis Wizard' we prompt the lead investigator/analyst to assign a 'Likelihood to Recur' value (0-5) and a 'Consequence' value (0-5). The matrix shown is just a default based on our preferences but those values are customizable.
The important point here is that based on the values selected, they will determine the depth of analysis recommended. In our case, any total value (Likelihood x Consequence) in the GREEN region, would require a minimal analytical approach, like perhaps brainstorming or 5-Whys. These approaches are traditionally not stringent on evidence requirements and shallow on depth in terms of drilling down into organizational systems and cultural norms.
The YELLOW region may require a little more structure, perhaps a Fishbone Diagramwhere formal evidence collection is either not required or minimal. The Fishbone Diagram has the capability to go in-depth into system's contribution to undesirable outcome, but in my experience, it is the exception and not the norm.
The RED region would require a full blown RCA using very structured, non-linear approaches like a logic tree where formal evidence collection/validation is a strict requirement. Also, it is a requirement to drill past the decision-maker and thoroughly understand why the decision-maker felt the decision they made at the time, was the right one. This delves head first into understanding human performance issues, system deficiencies, cultural norms and socio-technical contributing factors.
This prioritization approach just provides a quantifiable means of determining the level of depth of an analysis required to an organization.
Figure 1: Severity Calculator to Prioritize RCA Depth Needed
I thank SMRP and Empowering Pumps for the opportunity to present to their participants and more importantly, I thank the participants for their time and interest.
I will follow up this series with Question #2 soon.
FYI. For access to this webinar, it is apparently free to SMRP members and there is a $35 fee for non-SMRP members: https://portal.smrp.org/eweb/shopping/shopping.aspx?site=smrp&webcode=shopping&shopsearch=germ&prd_key=bf7268ce-edcd-4e7a-b1a2-daf53a5f8069