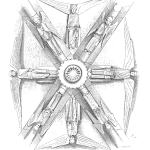 If you've ever wanted to learn more about how new Digital technologies like Artificial Intelligence (AI), Machine Learning (ML), Industrial Internet of Things (IIoT), Remote Data Sensing, and Industrial Automation apply to Reliability Engineering, then you've come to the right place.
The objective of the AI & Predictive Maintenance Article series is to explore
How each of these technologies work
How it can be used effectively
Why should one adapt for their daily use
What challenges do they need to overcome to implement
How to evaluate market available products
Make a case for transformation at one's workplace
We are at an inflection point in Engineering advancement. There has not been a more powerful generative technology like AI since the advent of internet. People who were in the workplace before internet can attest to the drastic change they had to deal after its arrival. AI will create a similar change – some good and some hard. All aspects of Reliability Engineering such as Design for Reliability (DfR), Reliability-centered Maintenance (RCM), Asset Management, Fleet Management, Maintenance Optimization will be covered.
This forum helps to educate the reader and prepare for the coming future.
Join me in an open discussion. Ask questions and share ideas. No AI-generated texts please.