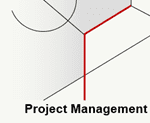 When it comes to ensuring a task or deliverable is accomplished, we often see the word "owner" used.  Perhaps surprisingly, there really is no true 'owner' of anything in the context of program or project management.
We can begin explaining this with two adjectives:  responsible and accountable.
Responsible is simply the person responsible for completing the task or deliverable (response-able), and accountable is the person who provides the resource(s).
If the responsible person is not resource constrained, it is possible for them to be both responsible and accountable (the responsible person may have everything they need and may not need an escalation path).  However, the manager of the responsible person is still ultimately accountable because they are providing the responsible resource.  (Instead of accountable, the terms such as sponsor, champion or leader can be used as well.)
For example, a project manager responsible for analyzing and communicating resource needs, while a project sponsor is accountable for providing a project with resources.  Subsequently, the project manager is responsible for ensuring task completion with these resources, but aren't accountable if the resources aren't provided.
One can see how the term 'owner' doesn't quite fit…what does the owner own?  Ideally, they might 'own' the task completion with good quality within the triple constraints (scope, time and cost), however:
…what if "the owner" is relying on other team members? (which is often the case).  This might mean multiple responsible resources and multiple accountable resources.  The ultimate accountability (to a leader in the organization) can be found going "up-the-ladder" in an organizational chart.
…who is placing constraints on time or scope to accomplish the task? (often constraints are established by a PMO residing outside the function without the sponsor acknowledging or even aware).
…what if "the owner" needs an escalation path for additional resources or assistance?
…rather than tag someone as "the owner" why not assign a sponsor (manager) as the responsible resource to provide technical guidance, coaching or mentoring? (for employees who might lack the will, or skill, in particular)
Also, recall that your project governance model might involve a steering committee of project sponsors.
No doubt, a manager wants a resource to 'take ownership', however, a resource is often (involuntarily) given 'ownership'.  Without true ownership, organizations might benefit from clarifying resources as responsible (response-able) and sponsors instead.  Rather than tagging resources as owners, a culture of responsibility and supportive leadership can be much more efficient.