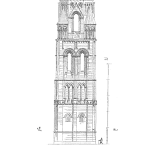 A Preventive Maintenance Planner Shows When Preventive Maintenance Jobs are Due to Be Done
Preventive Maintenance is the replacement of equipment assemblies and parts which have aged from the normal wear and tear of use. It is a good idea to show people well in advance on a wall planner calendar what dates the work is scheduled to be done.
In the olden days, before computers and computerised maintenance management system software, companies used a year-planner mounted on the wall as their preventive maintenance planner. The wall planner displayed the maintenance work schedule. Because the date for doing a preventive maintenance (PvM) job is usually set to a specified time frequency, the wall planner, like the one in Figure 1, showed the preventive maintenance schedule of work to be done in future.
Figure 1 comes from our 10-module online maintenance planner course we deliver via tutored distance learning. It indicates when the major scheduled maintenance shutdowns and turnarounds in an operation are due in the calendar year. More jobs are then added a month-at-a-time and the annual preventive maintenance planner gets filled-out with all the PvM work to be done that year. Forecasting PvM is typically done for at least a year into the future. But in operations where shutdowns or turnarounds involve a massive amount of preparation and coordination or require exceptionally long lead times to buy necessary materials, the preventive maintenance planner would extend forward to as far as is needed to procure parts and materials and to conduct all the planning and scheduling required to have a smoothly run shutdown or turnaround.
A modern computerised maintenance management system (CMMS) does preventive maintenance scheduling electronically. That allows measures other than time, like throughput or number of usages, to trigger the PvM job date, but they follow the same principle as using a wall-mounted office planner when generating the preventive maintenance schedule.
Every piece of plant and equipment typically has PvM jobs to be done on it. Once you have a lot of operating assets there will be PvM jobs to be done every day across all trade types and technical disciplines, electrical, mechanical, instrumentation, civil, etc. The equipment manufacturer's operations and maintenance manuals advise the recommended scheduled maintenance work and frequency. Other preventive maintenance jobs get created from the experiences gained in running and operating the equipment. PvM work is also identified by using maintenance strategy techniques like RCM (Reliability Centred Maintenance), and POFFA (Physics-of-Failure Factors Analysis) used in building a PWW EAM System-of-Reliability.
How a Preventive Maintenance Planner Works
Before computerization, scheduled preventive maintenance work was managed using a card-based system. The card size was around 7 to 8 inch wide by 5 to 6 inch high (160 to 200 mm x 120 to 150 mm; about A5 paper size). They were stored in draws indexed by equipment number. As well as administrative and accounting information, each card listed the equipment's scheduled PvM jobs; the frequency they were to be done; and the parts they required. The Maintenance Clerk's job was to use the cards to create a rolling preventive maintenance schedule for several weeks ahead. The job schedule and work orders with lists of parts to buy were passed to the maintenance supervisor to arrange. Once all items were onsite the crew completed the job.
Well organized and properly run maintenance departments would display the PvM jobs week-by-week on their scheduled maintenance planner located up on the maintenance workshop wall. By visually displaying the future dates for the scheduled preventive maintenance jobs on the wall planner, everyone in the crew knew what was happening in future and what work they would be doing.
In large operations there are tens-of-thousands of preventive maintenance jobs to do. Some done daily, some weekly, others monthly, some yearly, two-yearly, three-yearly, and so on up to a decade, and longer where necessary. The preventive maintenance planner needed to show them all in the month and week they were due to be done.
With introduction of CMMS software, the work of creating a wall planner each week with all the jobs to be done was replaced with printed lists, reports, and bar charts.
The Purpose of a Preventive Maintenance Planner
Earlier, it was said that preventive maintenance is done on nearly every item of plant and equipment. Scheduled preventive maintenance is done in fixed plant operations, mobile equipment, and fleets, for a good reason. PvM work is the replacement of aging parts and assemblies before they fail with new or renewed equivalents. If preventive maintenance is not done, then components fail while the equipment is in service. Such events are called breakdowns and they are the most frustrating and expensive equipment failures of all. We do preventive maintenance to never have breakdowns.
Preventive maintenance is far less costly to do than fixing breakdowns. A preventive maintenance schedule is intended to ensure the PvM work is done well before an aging part will fail. But simply having a preventive maintenance schedule with a list of PvM work orders to do by their due dates is not enough. You must turn the schedule into a visible plan. That is the purpose of a preventive maintenance planner: to SEE the necessary PvM work is getting done in time, before there can be a breakdown!
Figure 2 is a copy of a slide from Module 7 of our online maintenance planning training course. It is of a partially completed weekly plan showing the jobs scheduled to be done on Monday. It shows a mix of planned corrective maintenance and scheduled preventive maintenance. Other work orders will be allocated to the remaining days of the working week. The red bar is for the person responsible to cover and address any breakdowns.
The weekly maintenance planner will eventually show all the work orders to be done each day by the maintenance crew for the week. With a visible plan there is no hiding the truth of what maintenance work gets completed in an organization. Either all the work scheduled will get executed as per the plan, or some jobs will not be done. If the jobs not done are schedule preventive maintenance, then you know that the breakdowns they were meant to prevent have become more likely to happen.
Another great thing about scheduling maintenance jobs on a visual planner is how timelines and responsibilities are made clear. Each job is allocated enough time to do it properly, with the skills and resourced needed to do it to a top-class standard. With the daily plan defined, it is easy to spot when a job is in trouble by checking its progress against the plan.
These days a wall-mounted preventive maintenance planner is not used. The CMMS provides charts and plots showing the preventive maintenance schedule for any period dates you request. There is a great deal to know if you want to do maintenance planning and scheduling to top class performance. You are welcome to see if the Maintenance Planning and Scheduling distance learning course is of value in your training.