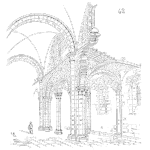 The document by Nowlan and Heap
Part of keeping equipment operational is affecting repairs appropriately. Sometimes it makes sense to replace an element of some equipment before it fails, i.e. automobile tires as the tread wears. Sometimes is doesn't make sense to repair a functioning unit as the result would be a system that is less reliable then before.
Understanding the equipment's range of failure mechanisms and failure patterns is a start. A lot of what is in the ASQ CRE BoK is very well covered by the report  by Nowlan and Heap (1978) Reliability Centered Maintenance.
The complete work is reproduce here and I highly recommend you read it. If you would like to take a copy into the exam with you as a reference, download and print.

While this work doesn't cover everything about maintenance, it does an excellent job (better than I could) of covering RCM.
---
Related:
Data to collect to optimize maintenance (article)
Field Industry and Public Failure Data (article)
Benefits of Reliability Engineering (article)