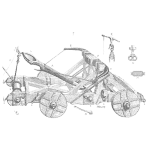 When a reliability engineer or manager does their job well, the product just works as expected. Maybe even a little better than expected. There isn't any major problems that need a hero to resolve.
Work done well, may go unnoticed. To avoid that you need to master the art of promoting successes without coming across as bragging or boasting. For your career advancement, you need to be both successful and likable.
For your program and ability to influence outcomes, you also need to be seen as successful, valuable, and again likable.
So, what are some ways to share what you have accomplished without sounding too self-promoting or bragging? Let's explore a few tips based on the Harvard Business Review article "Savvy Self-Promotion", by Leslie K. John in the May-June 2021 HBR magazine.
Importance of Showcasing Accomplishments
My relatively new boss at our first annual performance review asked me, "So what have you done of value lately?". He followed up with, "What is your return on investment?". This took me by surprise, yet in hindsight, it is actually a fair question.
Over time I along with the team I worked with learned to quantify our value project by project. From quick phone calls that helped answer a question to changes in corporate policy, we learned to understand and quantify how the work we did made a difference. How our work added value to the organization.
My boss had us create a value statement for each project or major accomplishment. Basically, it had the problem statement, an outline of what we did, and the quantification – often in the words of the team we were supporting – of the value the work provided.
This quickly became a slide deck to showcase our group's reliability consulting capabilities. It increased not only our team's influence it also increases my ability to articulate how what we were proposing would make a difference and be of value.
As we continued to collect and share our value statements, our ability to make proposals that got accepted became easier and our team's budget continued to grow. Plus, the careers of all in the team accelerated. We continued to get invited to address larger and larger scoped projects. We were sought after.
We did this because our boss knew the many benefits of knowing how to clearly state what difference we made and how to quantify the value of what we did. Let's explore a few ideas to enable you to showcase the value you provide.
When Asked, Be Prepared to Share
This takes preparation, which I had not done the first time I was asked. With routine practice documenting the difference and value of each project, this because something that was easy to share.
The 'ask' may come direct, such as "What are some recent accomplishments?" or, "How has your work made a difference?". Or it may be more subtle, such as, "How did similar past projects turn out?", or, "Describe some past projects and your accomplishments."
How to respond may be just a quick conversation or a chance to present formally. The idea is regularly documenting your accomplishments is the cornerstone to being prepared to share.
When Others Share, Be Prepared
Years ago the engineering team I work in would get together once a quarter to review projects, questions, and accomplishments. The intent was to make us all aware of what others are working on, plus it provided a chance to raise and discuss issues, plus a chance to share accomplishments.
Sometimes, it may just be an informal discussion where others are sharing past projects and accomplishments. If others are sharing and the group is participating (it's not a game of one-upmanship or bragging) then it is fine to share a quick story.
Find a Champion or Promoter
My boss was our champion, and he had one too for the group. A mentor or senior manager that both understands what you do, and how the accomplishments translate to value, may want to play the role of champion or promoter. Of course, you should routinely provide them details on accomplishments. A senior manager champion or promotor may have a reliability agenda that aligns with the work you are doing and find being able to highlight the difference you're making helps them move forward with their reliability improvement agenda.
A peer that happens to be well connected in the information communication network (an influencer or connector) may be in a great position to share your accomplishment stories. They benefit by strengthening their network, as they know someone that makes a difference with their work.
Strike and Maintain a Balance
Obviously, if you only highlight your major accomplishments, others will quickly tune you out. Be humble, as well. Be interested in other's accomplishments, ask questions, and learn from their stories. Also, relate the problems you're facing, ask for advice or assistance. You're not always perfect, so share that, too.
Celebrate Successes Well
After one particularly successful project, I enjoyed a nice dinner at a restaurant overlooking a small wooded river. Right after documenting the value of the project.
The team I worked with would regularly share with each other, not only progress, but the milestones, and accomplishments. We all knew that documenting value strengthened our team's ability to work on and solve bigger problems and projects. We all benefited by having clear value statements, so we asked each other for feedback and suggestions.
Some celebrate with a smile and sense of satisfaction, others with dessert after dinner to mark the special event, others in a way to signals to you that you did well. It's important to take time to pat yourself on the back when the occasion arises, so do so. Treat yourself.
So, what have you accomplished of value lately? Start documenting your successes in the comment field below.