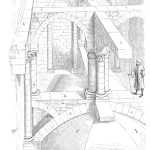 The data in Maintenance Management Systems are very often "unfit for purpose". When asked about why there is an Enterprise Asset Management or Computerized Maintenance Management system, the answer varies. Here are some reasons we've heard:
It helps with the planning and scheduling of maintenance work.
It helps us capture maintenance costs against the right cost centers.
It helps us find the parts we need for maintenance jobs.
It provides data for reliability improvements.
We couldn't possibly manage all the jobs without a system.
All are good reasons, but do we really get the advantages of our systems' capabilities?
Planning and scheduling – indeed these systems are designed to help here. Planning is built into most of the systems on the market, scheduling is often more challenging to program so quite often 3rd party packages are used. The key to using this capability is to have trained and capable planners who actually plan work. All too often there are no planners, or they spend their time chasing parts, not planning.
Costs – if you have a well-designed asset register that corresponds to accounts in your chart of accounts, then this capture and tracking of costs can happen. Many have both but don't link them in particularly meaningful ways. The chart of accounts is usually at a much higher level in the asset hierarchy so costs are aggregated at levels that can be less meaningful to maintainers. In practice, we often find the use of purchasing cards, blanket work orders, work orders not tied to the correct asset, work orders not linked to any asset, or no work orders at all. Those all defeat the purpose.
Parts – these are tracked in storeroom inventory management systems that may or may not be part of the maintenance system or they might be linked to it through some form of module integration. It is important that the right parts are linked to the right equipment and that plans identify them. Lack of planning (see above) often undermines this. Poor forecasting of demand (a planning function) leaves the storeroom guessing about future needs. Maintainers often stash parts (from direct purchases) in their own little hide-aways. This "hides" usage from stores and information about demand, and even which parts to have (or not), also degrades over time. Stores, seeing an increasing volume of slow-moving parts get rid of those that haven't moved. Invariably something that was truly needed as an insurance spare is then lost. When the equipment that was intended for breaks down, the downtime is extended, purchasing price and logistics costs grow.
Reliability – knowing that work was done is not always an indicator that something had failed or would have failed. That must be identified to be useful. The actions that reduce the ability to track costs correctly (see #2) also reduce the ability to have useful reliability data. To be useful for reliability we also need the data to relate to failure modes. Rarely do we see a direct link between a failure mode and the work performed and tracked on work orders. WOs track transactional information. Failure modes are about failure events and causes and aside from triggering a loss of function that in turn triggers the need for repairs, have nothing to do with the rest of the transactions. In most cases, it is the loss of functionality that gets noticed and recorded, not the failure mode and causes. Most reliability engineers will carry out their own studies to get data that is fit for their purposes – if indeed you have a reliability engineer.
Can't manage without it – the tool (CMMS/EAM) is software and it has a lot of rules for its use that must be followed, or you can't use it effectively. Many maintainers struggle with aspects of using their systems. In those cases, it is actually a barrier to effective work execution. We've even found planners that can't use the systems properly. Usually, it stems from a lack of access (for most trades) and/or training (for everyone). This author is just old enough to recall working in maintenance without computerized systems and we managed quite well. The system isn't really necessary at all, but it can be helpful. In terms of reducing the effort to find information (e.g.: for parts), sort jobs into schedules, re-use job plans, reducing paperwork, etc. these systems are great. But if they get difficult to use or people are not trained in their use, as well as their roles in your maintenance processes, then the systems are misused or ignored.
When we fail to set our systems up properly and train the right people in how to use them, in order to do those very things that we say we want the system for, then we set ourselves up for failure. The systems don't get used to their full capability and they then fail to deliver what we said we wanted from them. The fault rarely lies with the software, but with the organization that failed before even turning the users loose on it.