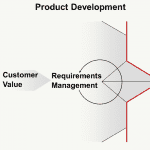 Use an Integrated Approach in the Product Life Cycle Process to Enable Customer Value
Given our primary goal of developing a profitable product, our objective in the design process is to maximize customer value and minimize cost.  From a financial analysis standpoint: we pursue products with the highest possible margins (ie. charge the customer "as much" as possible, and make the product for "as little" as possible).  Of course we also want to sell "as many" as possible.
What is customer value?
Value is the worth (in monetary terms) of a products performance or features.  Therefore, "what a customer is willing to pay" for better performance, an additional capability or features should be estimated.
Some suggested specific actions to clarify (overall) value of the product:
Determine your customer segment most likely to buy (and why…are they value or price buyers?)
Identify the need (or perceived need) this product will meet (or problem solved) for the customer and your customers customer
If possible, use a competitive or comparable product as a baseline to identify value
Estimate the total available market and your percentage of market share
Establish price point and expected sales volumes (revenue goals)
Your finance department should be able to help you calculate product margins, net present value, internal rate of return, etc..
How does it fit within the product life cycle process?
From perspective of a project manager, the corresponding deliverable in the product life cycle (PLC) process "definition" phase would be a Market Analysis document.  An outline of topics is provided as follows:
General Opportunity Description
Market Segment & Needs – customers, needs, value chain, competitive analysis and economics
Opportunity – product benefits and features
Voice of Customer – including reliability considerations, product environment, intended use (…keeping in mind the 'customer' may also be a system in which your product is a subsystem or component)
Risk Analysis – opportunity strengths, weaknesses, opportunities, threats
Appendices – supporting materials, research studies, websites, articles, etc.
The market analysis (MA) document, provided by the product manager or opportunity champion, allows them to "tell their story" about why a product will likely be successful in the marketplace.  It can be somewhat informally written, periodically released, distributed, and updated throughout the product development process.  This documented due diligence is extremely important to ensure customer & market needs are captured and communicated.
Remember that we are answering the following two questions: (1) what does the customer need? (via the market analysis)…and (2) what shall the design provide? (via the product requirements document, PRD)…in order to meet those market needs.  The market analysis should provide some environmental conditions, use cases, features or design constraints, but the main emphasis of the MA should be placed on understanding needs.
(Note that the market analysis may also be called the Market Requirements Document (MRD), however, there are several reasons for calling it simply a market analysis, which I'll explain in a separate article.)
The market analysis may be updated as product requirements are clarified since the story of the products impending success may need to be revised as more is learned about the products capabilities.
Also, product development sometimes starts with a design idea or a proposed design concept.  If this is the case, we must still consider "what the design provides" in order to meet the customer needs and specify performance or design constraints in the PRD accordingly.  (An excellent tool for ensuring a comprehensive understanding of customer needs vs. requirements is "Quality Function Deployment", which is out-of-scope for this article.)
In summary, the design is "the how" the product requirements will be met, the product requirements are "what" the design provides to ensure customer needs are met, and the market analysis ensures we understand customer needs and value.  An integrated approach to ensuring customer needs and value should be embedded in the PLC process, and can save a company millions of dollars in product development costs.