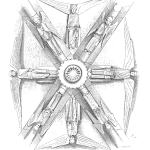 While in the US Army many years ago, I took command of an artillery battery. My first day included sitting down with my boss, the battalion commander. I've used the advice he gave me every day since.
He said that I needed to make decisions. It's great when they are good decisions, you can learn from decisions that don't work out well. He also said the only thing not allowed is not making a decision.
I learned that decision-making is a process and that I could get better at it with practice and feedback, and I did.
Discuss how you're making reliability decisions
As reliability people, you are a leader. We are in a position that leads, guides, or influences as much or more than we select sample sizes or interpret Weibull plots.
We make decisions. This failure mechanism is crucial to fix, the other one we don't have to worry about. We decide what to escalate and which to simply monitor. Our decisions inform design teams, influence vendor selection, and establish a basis for customer expectations. Oh, and sometimes we sort out a sample size, as well.
Knowing that we are not part of every decision that impacts reliability performance, one way we can encourage others to make better reliability decisions is to reveal how we make decisions.
Show the data, the formulas, the considerations. Discuss the weighting of the range of information involved and how to establish which bits of information are vital to making the right decision.
Expose how you frame a question, how you gather information, what considerations to include, and the thought process used to arrive at a decision.
This is good practice for any decisions as it allows you to examine your own process and identify what may need improvement.
This process of discussing decision-making allows others to understand how you go about balancing reliability with other priorities. It also models for them how to include reliability in their decisions.
Mistakes will happen
Yes, I made poor decisions while serving as a commander. I wasn't in trouble, yet I was afforded the wisdom and time to examine the decision and learn what to do differently in future similar situations.
As you help others improve their decision-making, be patient. Use a poor decision as a mechanism to step back and allow learning to happen.
Punishing poor decisions will likely result in avoiding making decisions or a fear of making decisions. Instead, help others learn to learn from mistakes. This allows them the ability to exercise and improve their decision-making prowess.
Success will also happen
And successes may increase at pace as those making decisions become confident and thoughtful decision-makers.
Celebrate successes, yet also encourage spending a little time reviewing the decision-making process to reinforce what worked. Again, it's about practice and improving the process.
Expand when to consider reliability in decision making
A key role of a reliability leader is to encourage others to make decisions that properly include reliability-related considerations. This is part setting expectations, part providing the necessary information and awareness, and it is part of improving the decision-making process for those involved.
The decision to use HALT, or conduct an FMEA, or kicking off a detailed RCA do not require a reliability person to make those decisions and in organizations, with thriving reliability programs, the reliability folks will likely not make those decisions.
Yet, you can and should expand the reliability-related decision-making beyond just the use of common reliability tools. Encourage the including and consideration of the impact on reliability when selecting a vendor, when exploring new materials, or when conducting early functional testing.
The decisions of the development, procurement, and manufacturing teams directly impact reliability. Yet, so do the decisions of the customer service, marketing, and finance teams.
Decide to encourage reliability thinking across the organization and encourage better decision-making in general.
This article is inspired by "Do You Really Trust Your Team? (And Do They Trust You?)," by Amy Jen Su