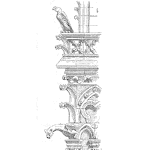 When we understand how something fails, we can create a mathematical model of the effect of stress or load on the time to failure behavior.
The model may take different forms, yet it is the ability to related the conditions surrounding the use of a device to its eventual demise that is essential. The specifics include a molecular level of detail in some cases.
Physics of Failure models focus on the particular relationships between stresses and materials.
PoF modeling employs knowledge of life-cycling stress applications, loading profiles, and in-depth understanding of failure mechanisms to craft mathematical models. These models are useful to:
Model time to failure
Design tradeoff analysis
Select materials
Determine mitigation strategies
Minimize demonstration or accelerated testing
Improve prognostics during use
PoF modeling uses scientific theory and research to create rigorous mathematical models.
Physics of Failure models have initially detailed models, then use computer simulations, experimental data, and probabilistic factors to estimate the impact of different environmental or use conditions on reliability performance.
Deterministic versus empirical models
Deterministic
The PoF approach starts with the identification of potential failure mechanisms.
This method also requires stress at each failure site such as loading conditions, structural geometry, and material properties. The models may describe degradation, erosion, diffusion, corrosion phenomenon leading to sudden or eventual failure.
Failures may occur due to accumulated damage or deterioration of the item to withstand the applied stress.
The deterministic Physics of Failure models attempt to model the path the item take to failure using a mathematical model.
Empirical
Empirical models reflect the time to failure behavior of a system related to specific stress conditions.
Empirical models use with test or field data and do not attempt to model the detailed interactions between stress and failure mechanism. An example of an empirical model is Peck's temperature-humidity relationship.
The model empirically determines the fitting parameters for each type of microelectronic package technology.
An empirical model may be little more than curve fitting the experimental data, yet often the design of the testing and model rely on a detailed understanding of the failure mechanisms involved. The Arrhenius model describes thermally activated failure mechanisms.
It may be a deterministic model based on the activation energy of the molecular rate reaction or the equation form used for empirical modeling.
Conclusion
Consider that empirical and deterministic models attempt to describe the complex real world.
The models are estimates.
The ability of the model to assist you and team when making decisions may require simplistic or complex models depending on your particular technology and situation.
---
Related:
Overview of System Reliability Modeling (article)
Reliability Modeling Using Monte Carlo (article)