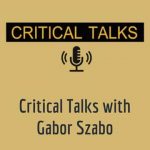 CT E09 Closing the Gap Between IT and Quality – Delivering a Home-Grown Data Solution with Tim Sheehan
My guest on this episode is Tim Sheehan.
Tim is an extremely well-rounded quality engineer with significant experience in many facets of quality. More importantly, he has recently learned a set of skills that really makes him stand out from his peers and capable of designing, developing and delivering complete data solutions at his company.
With digital technologies gaining ground in the manufacturing floor, and pretty much everywhere these days, us in quality have this ever-growing need to become more data literate and even pick up advanced data skills, such as visualization, programming skills (e.g. SQL and R), setting up databases and data pipelines. And that's exactly what Tim did; he took the initiative and picked up these skills and ended up delivering a much-needed custom data solution at his company essentially closing the gap between IT and the quality function.
In this episode we cover in detail:
– The details of and learnings form the data project Tim has been working on
– The difference between purchasing an off-the-shelf data solution from a vendor and being able to develop one in-house
– How the digital revolution is not necessarily just about data; it is still very much about people, for people.
– What a great data analytics solution looks like
– Why having the technical skills to develop a data solution AND the domain knowledge to know what to build may be the best of both worlds
– Tim also shares his advice with quality folks wanting to become more data literate and gain tech skills so they themselves can design and deliver data solutions at their companies