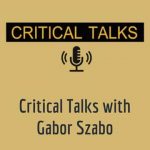 CT E11 What is the Future of Quality? with Dianna Deeney
In this episode, I have Dianna Deeney join us, with whom I unpack in detail the question: "What is the future of quality?". Dianna recently posted an online article with the same title, and since it really resonated with me, I thought she and I could talk through her excellent findings on the show.
Dianna is a mechanical, quality, reliability engineer, consultant and fellow podcaster. She advises engineers in product development. Her work includes consulting and training on how quality and reliability engineering methods can be integrated early into the design process. She believes that the chance of design success is improved through increased collaboration with cross-functional teams, data-based decisions, and application of risk-based analyses – all of which she has seen to be capable through quality thinking. She consults under Deeney Enterprises and is founder of Quality during Design (https://www.qualityduringdesign.com), an online platform that shares resources, practical advice, and problem-solving techniques to strategically apply quality and reliability engineering methods to product design.
Episode highlights:
– Trends that have shaped the voice of the customer in recent years
– Thoughts on the use big data in quality; challenges and opportunities
– Recent trends in product development and innovation
– How does the quality function best fit within the organization?
– Dianna's practical advice as to how quality professionals can navigate the ever-changing landscape and essentially the future of how we do business