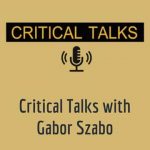 CT E12 Making Sense of Sensors in Manufacturing with Fred Schenkelberg
In this episode I got to interview the amazing Fred Schenkelberg, who is a reliability expert at FMS Reliability and the owner of the super popular reliability and quality engineering professional development online platform, Accendo Reliability (make sure to check it out if you haven't already!).
The episode centers on using and making sense of sensors in manufacturing. The application of sensors in manufacturing has become quite widespread. The goal is to collect large amounts of data from manufacturing equipment with the goal for those data to become information, knowledge and aid decision making. Potential areas are equipment maintenance/reliability, product performance and reliability, quality, efficiency, traceability, regulatory etc.
Fred shares with us his experience and wisdom on:
– Misapplication of sensors in manufacturing
– How experimentation prior to setting up a sensor is critical for understanding what you need to (and more importantly, what you don't need to) collect data on
– Merely looking at sensor data doesn't replace hands-on, in-person interaction with manufacturing equipment
– Strategies for deciding on what is important to collect data on