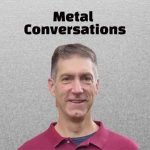 Metals Engineering Perspective to Component Design
In this episode Michael discusses the metals engineering perspective to component design. The concepts actually apply to all materials – metals, polymer, ceramics, and new classes of materials.
No matter the application, the considerations when designing a component are always the same. It's necessary to understand all the design requirements when selecting materials and finalizing a component's shape and features. The design requirements include performance, reliability, weight, cost, how the component will be fabricated, and how it will be joined to other components. With this information it's possible to identify alloys and make changes to the component's shape and features as needed to meet the design requirements at low-cost. Often, trade-offs between component materials and form are made to optimize the design. This is especially important for design for manufacturability to keep costs down and ensure a receptive supply base.
Michael Pfeifer is a metallurgist and metals engineer. He works with design and manufacturing clients to help with component materials selection, manufacturing process development, supplier evaluation, failure analysis and root cause analysis.
His company, Industrial Metallurgists, offers metallurgy and metals engineering consulting and training. The training is geared to design, manufacturing, and quality engineers. More information about Industrial Metallurgists' services and training is at https://www.imetllc.com/
He received a B.S. and M.S. in Metallurgical Engineering from University  of Illinois and a Ph.D. in Materials Science and Engineering from  Northwestern University. He is a Professional Engineer, licensed in Illinois.  He's wrote a book – Materials Enabled  Designs. It teaches how to select materials that optimize product  performance, reliability, and cost.
For more information about Michael go to https://www.imetllc.com/about/