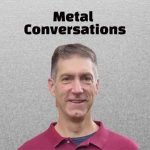 You Have to Think Small to Understand Metallurgy
(Apologies up front – I recorded this episode using the wrong microphone. So, the sound quality is fair. I'll do better next time.)
There are microscopic structures and processes in metals that have large effects on metal properties, performance, and reliability. Being able to conceptualize these structures and processes goes a long way toward understanding the behavior of metals and the effects of mechanical processing and heat treating on metal properties. In this episode I discuss some of the microscopic structures and their effects on metal properties.
I also discuss recent projects and a bonus at the end – some details about my recent trip to Seward, Alaska
Michael Pfeifer is a metallurgist and metals engineer. He works with design and manufacturing clients to help with component materials selection, manufacturing process development, supplier evaluation, failure analysis and root cause analysis.
He received a B.S. and M.S. in Metallurgical Engineering from   University  of Illinois and a Ph.D. in Materials Science and  Engineering  from  Northwestern University. He is a Professional  Engineer, licensed in Illinois.
He's wrote a book – Materials Enabled  Designs. It teaches how to select   materials that optimize product  performance, reliability, and cost.
For more information about Michael go to https://www.imetllc.com/about/
Industrial Metallurgists offer metallurgy and metals engineering   consulting and training. The training is geared to design,   manufacturing, and quality engineers. More information about Industrial   Metallurgists' services and training is at https://www.imetllc.com/