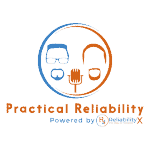 Bryan Bieschke
Join us for an incredible new episode of Practical Reliability featuring our special guest, Bryan Bieschke!
Bryan is a Maintenance & Reliability Leader at Bowery Farming and the owner of Align Machine Company. He's a true expert when it comes to maximizing machine availability and improving operational efficiency.
In this episode, our host George sits down with Bryan to delve into the importance of achieving machine availability and how operational changes can solve a multitude of problems. From electrical troubleshooting to innovative techniques, this conversation is packed with valuable insights!