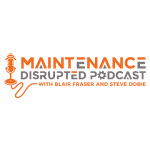 MD 202 Management of Plant and Process Change With Ronan O'Sullivan
When you bring in a new project or process, how do you manage the change? Do you connect with the stake holders? Do you ensure the proper amount of time is taken in the design phase? What is your process?
In this episode I talk with Ronan O'Sullivan on his management of plant and process change and he outlines his steps to ensure a successful project. It does not matter if the project is big or small this methodology can be applied to it all.
Episode Shout Outs:
Ronan O'Sullivan – https://www.linkedin.com/in/ronan-o-sullivan-25726a37/
If your company sells products or services to engaged maintenance & reliability professionals, tell your marketing manager about Maintenance Disrupted.  If you'd like to discuss advertising, please email us at maintenancedisrupted@gmail.com
Check out our website at www.maintenancedisrupted.com and sign up for the weekly disruption newsletter with bonus content. If you like the show, please tell your colleagues about it and follow maintenance disrupted on LinkedIn and YouTube.
Follow Maintenance Disrupted on LinkedIn
https://www.linkedin.com/company/maintenancedisrupted
Music: The Descent by Kevin MacLeod
Link: https://incompetech.filmmusic.io/song/4490-the-descent
License: http://creativecommons.org/licenses/by/4.0/