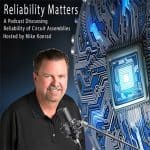 A Conversation about ESD Flooring with Thomas Ricciardelli
Modern electronics assembly has seen so many changes over the years. In today's era of IOT, the electrification of vehicles, the explosion in the use of bottom terminated components, the increasing implementation of electronics into harsh environments have all contributed to the increasing complexity and difficulty of building electronics. While so much has changed, there are some things that have remained the same. 
One such thing is the need for ESD control. There always was and continues to be the challenge of protecting components from the dangers of static electricity. My guest today is Thomas Ricciardelli, Founder and CEO of SelecTech, a manufacturer of ESD flooring for the electronics assembly industry.
Tom is also the Chairman of the Flooring Committee of the EOS/ESD Association. Tom earned a Masters in Chemical Engineering from MIT and an MBA from the MIT Slone School of Management and today, he's my guest on the podcast.
Contact Info:
Thomas Ricciardelli
Founder and CEO
SelecTech
tricca@selectech.com
www.selectech.com