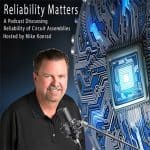 A Conversation about Ultra-Thin Conformal Coating with HZO's Lisa Rizzo
Today we'll dive deep into the world of conformal coating.
More and more assemblies are being subjected to conformal coating to protect the assembly from harsh environments. What's leading the drive to conformal coat electronic assemblies? What types of conformal coating options are available? What are the advantages and disadvantages of each type?
For circuit assemblies, the protective embrace of conformal coatings ensures reliability, longevity, and performance. As technologies advance, so does the demand for innovative solutions to safeguard our electronic products.
Whether you're a seasoned industry professional, a curious tech enthusiast, or just someone who's new to the world of conformal coatings, this episode is your go-to source for in-depth information on the growing trend of applying conformal coating to circuit assemblies.
So, join us as we peel back the layers, and immerse ourselves in the world of electronics protection, and learn how conformal coatings play a pivotal role in keeping our devices humming, even in the harshest environments.
To better understand conformal coating, I invited Lisa Rizzo to the show. Lisa is Senior Director of Strategy & Emerging Applications at HZO. HZO is a global leader & innovator in protective solutions that, according to them, "keep the world running".
They provide products to markets including consumer electronics as well as high-reliability markets including automotive, industrial, medical, and IoT to deliver a more resilient, reliable, and durable level of protection. HZO specializes in nanocoating solutions that safeguard electronics, electrical products & critical applications in an ever-changing market.
Lisa Rizzo's Contact Information:
lrizzo@hzo.com