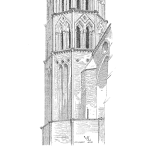 Your team is developing a new downhole chemical injection valve for a client's offshore well. The valve's service life target reflects its electro-mechanical (EM) content and is much shorter than the well's economic life. But the valve housing has an estimated structural service life that exceeds well economic life, so structural integrity will exist well beyond electro-mechanical failure. Will the shorter life of the electro-mechanical content satisfy client requirements?
The target service life for any downhole tool must be based on a relevant parameter. For example, if the tool is customized for a specific well, the target may need to match that well's economic life or its workover (service) interval. But once a target is selected, the estimate must meet or exceed the target. Here are some aspects of service life to keep in mind:
Economic life vs design life vs. service life. Economic life is the time over which a product is useful. Design life is the time over which a product can perform as advertised. Service life is the time over which a product remains serviceable or remains in service. Within the upstream community, the terms design life and service life are frequently used interchangeably.
Service life estimation. Various methods exist for estimating downhole tool service life including simulation, cyclic testing, materials aging tests, field history, or combinations of these.
Control equipment for downhole tools. Surface equipment (e.g., fiber optic interrogators, or hydraulic control panels) could have a service life estimate different from the equipment it controls. Service life for surface equipment is affected by enclosure temperature, humidity, and other factors.
The service life target for the downhole injection valve must support mission critical and business critical requirements. Mission critical requirements always include structural integrity, but business critical requirements may reflect a minimum duration for chemical injection. Valve redundancy may be necessary to meet business critical requirements.
This is the 3rd of six articles on Design for Reality for downhole tools and systems.