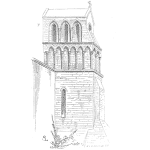 Split And Clamped Mounting Hub For Shaft Attachments. For speedy and easy maintenance it is best to use a clamped hub to mount attachments to shafts when possible. This article presents a conceptual design of a split hub bolted and clamped to a shaft. The required attachment is then mounted to the removable hub.
Keywords: agitator shaft split hub, agitator blade hub, shaft mount,
When mounting impellers and blades to shafts it is common to bolt them to hubs which are themselves fixed to a shaft. The hub is often a single, complete unit that is slid onto the shaft and moved into place, then keyed and locked onto the shaft. Below is a conceptual sketch of a split hub that saves a great deal of work for maintainers, and downtime for production.
The design uses a split hub that bolts together and clamps to the shaft. The hub is still keyed and fixed into place as usual but does not need to be slid along the shaft to remove it. This design permits quick and easy removal of the shaft attachment and its hub from the shaft. To the split hub is welded the connection points for the required attachments, such as blades or paddles.
The gussets shown in the sketch add strength and rigidity in those situations where the hub attachments experience impact or vibration. The gussets act to spread the impact forces throughout the hub and so reduce the fatigue stresses in the welds between hub and bolted flanges. To reduce the chance of fatigue failure even further it is best to grind all welds smooth and left free of stress raising nicks, undercuts, holes, inclusions and the like.
Its method of operation is easily understood by operators and maintainers and no special knowledge is required for its successful use.
Disclaimer: Because the authors, publisher and resellers do not know the context in which the information presented in this article is to be used they accept no responsibility for the consequences of using the information contained or implied in any articles.
P.S. If you have maintenance engineering advice on industrial equipment maintenance, especially defect elimination and failure prevention of plant and equipment, or have made successful equipment reliability improvements, please feel free to send me your articles to post on this website. You can contact me by email at info@lifetime-reliability.com