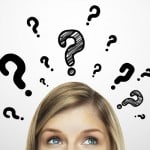 FMEA Q and A
Can you take into account reliability or durability functions in an FMEA? How can this be done? A reader asks this question, and it  is discussed and answered in this FMEA Q and A article.
"A prudent question is one-half of wisdom."
Francis Bacon
Reader's question:
If a customer requires a product life to reach 1 million cycles, but the product cannot reach 1 million cycles without failure, may I use "life less than 1 million cycles" as a failure mode in the FMEA?
Answer to reader's question:
You have an interesting question about a "failure mode" occurring at a time that is less than the required life cycles. By definition, a Design FMEA considers the likelihood of failure during the design life of the product. In my opinion, a failure mode "less than required life cycles" is too general. I suggest that you define the primary functions of the product, and analyze how each of the functions can fail during the design life of the product. This will take into account any failures that occur at a time that is less than the required life cycles.
There can be an exception to this answer. Let's say one of the primary functions of your product has to do with reliability or durability, and you want to include that function in your FMEA. We'll take a fictitious example of a widget that is designed to be very durable (with specific durability requirements). You could add the durability function to the other primary performance functions. When analyzing the durability function with the FMEA procedure, you ask the team the manner in which the widget fails to accomplish the durability function. This may result in specific failure modes that relate to wear out or extreme stress, that do not necessarily get taken up with the performance functions.
One other point. In most FMEA applications, the operating and environmental requirements are agreed to by the FMEA team as part of FMEA project preparation. They can be documented in the Assumptions step of FMEA preparation. Subsequently, when the team considers various FMEA functions, the operating and environmental requirements are assumed to be present. This avoids having to repeat the operating and environmental requirements in each function description. In many FMEA applications, the item's reliability requirements are included and documented in this preparation step.
Next Article
All the work in an FMEA through risk prioritization is leading up to the Recommended Actions. Without effective corrective actions, risk will not be reduced to an acceptable level. In the next article, the subject of developing effective recommended actions is discussed, including examples and tips.