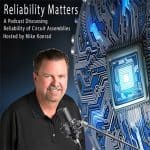 A Conversation about ESD Mitigation with ESD Expert Christopher Almeras
Electricity is the life blood for all circuit assemblies. It can also afflict significant damage via electrostatic discharge. My guest, Christopher Almeras of Raytheon reviews the various ESD mitigation strategies as well as some ESD horror stories!
Christopher Almeras began his career in process engineering for a small electronics manufacturer in the late 1990s. There he became responsible for the sites ESD compliance verification. His next career move took him to a high-volume manufacturer where he added ESD Coordinator to his process duties. He eventually made the jump into the Military/Aerospace side of electronics manufacturing (with Raytheon) in 2010 where he has remained working in process, capital installations, continuous improvement, and ESD.
In 2009, Christopher completed his ESD Certified Program Manager from the ESDA. He serves as a member on several ESD Association standards committees including S20.20, TR53, Process Assessment, High Reliability, Electrostatic Attraction among others. In 2022 he took over the working group chair for Soldering/Desoldering Hand Tools.
Christopher was elected to the ESD Association Board of Directors and continues to be active with the ESD Symposium each year. In 2018 he presented his technical paper "An ESD Case Study of Defect Analysis in High Speed Electronics Manufacturing" at the symposium.
Christopher earned a BS in Mechanical Engineering from Purdue University and an MS in Industrial Engineering from Oklahoma State University. He is an
ESD Certified Program Manager (ESDA).
Christopher may be contacted here:
lonestaresd@outlook.com
https://www.lonestaresd.com
During this episode, I referenced the following:
Reliability Matters Episode 104: A Conversation about ESD Flooring with Thomas Ricciardelli
https://youtu.be/peyNVuE7Ink
4 Easy Ways to BLOW UP Your Test Gear
Daniel Bogdanoff – Keysight
https://www.youtube.com/watch?v=dDvue5whx0s