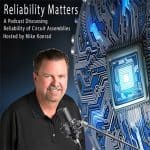 A Conversation with Component Storage Expert Mike Adamson
While it may seem like an untimely topic given the current supply chain shortages, storage systems for electronic components are an important part of the electronic assembly industry. While we are still in the midst of a supply chain crisis, sooner or later this will be solved and the question of where to put all of our components will be waiting for us to answer. It's often said we don't have time to work on the important because we're so busy working on the urgent. 
My guest today is Mike Adamson, Product Manager for Inovaxe Corporation, a provider of material handling products and services for the electronic assembly industry. In today's hyper-competitive electronic assembly industry, efficiency and optimization are key to maintaining competitiveness.
Mike received a BS in physics from the University of Wisconsin La Crosse as well as a BS in Electrical Engineering from the University of Minnesota Twin Cities. In addition, Mike also earned an MBA in Marketing from Lynn University.
Mike Adamson may be reached here:
michael.adamson@inovaxe.com
https://inovaxe.com