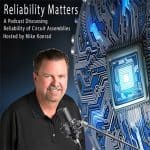 SMT Assembly Equipment for Low Volume Applications
Today, we're going to talk about low-volume electronic assembly. We all know who the "big players" are when it comes to solder paste printers, pick and place machines, reflow ovens and other assembly equipment. But what choices does one have if they need to produce low-volumes of electronic assemblies such as prototypes and other low volume applications? 
Let's face it, most assemblers can't justify a multi-million-dollar production line for low volume production. One solution may be to outsource the production to a contract manufacturer but there are specific circumstances which may prevent that. In today's episode, we'll review some of the equipment options for low-volume SMT production and we'll see if the barrier to entry for in-house assembly is lower than one might think. My guest today is Ed Stone.
Ed is a sales manager at Manncorp, a provider of SMT assembly equipment for the EMS industry. Manncorp was founded 55 years ago back in 1967. Just imagine how much our industry has changed over the past 55 years! I'd love to say Ed has been there from the beginning, but I think the company is a little bit older than Ed.
Ed Stone's Contact Info:
estone@manncorp.com
www.manncorp.com