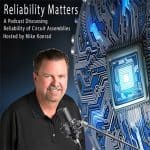 Conformal Coating Material Selection Best Practices
Today, we're diving into conformal coating best practices. With the explosion of IOT, the electrification of vehicles, and the miniaturization of circuit assemblies and associated components, many of which are operating in harsh environments, the need for conformal coating has never been greater.
Coating your assemblies? Where does one start? What material should one choose? Should it be applied in-house or through a contract-coating house? What are the best practices in materials selection, application, inspection, and thickness? So many questions!
To answer these and other questions, I invited a conformal coating expert to speak with me and hopefully shed some light on this subject.
My guest today is David Greenman.
David began his career in the conformal coating business working at Concoat, first distributing Humiseal products and eventually manufacturing them under license for Europe, the Middle East, India and Africa. After 25 years of distributing, then manufacturing Humiseal products under license, Chase Corp, which owns Humiseal purchased Concoat where David serves as Director of Humiseal UK, Europe, and India where he is responsible for Corporate Responsibility as well as supporting HumiSeal sales and technical teams.
Earlier in David's career, he qualified as a Radio, TV/Electronics Engineer and became a member of The Society of Radio and Electronics Technicians that was eventually absorbed into The Institution of Engineering and Technology, of which he is still a member.