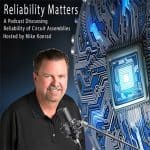 A Conversation about Production Automation
It's been said, on this show, that one key factor to international competitiveness is automation. While labor rates vary widely across the world, automation helps to level the field.
My guest today is Michael McHale, CEO of Production Systems Automation, otherwise known as PSA. Michael graduated from Drexel University with a BS degree in mechanical engineering.
Just to put our upcoming conversation into context, it's helpful to know that PSA is a privately owned engineering and custom manufacturing firm founded in 1985, with three locations in Pennsylvania. They are experienced as a turnkey systems integrator, providing solutions for capital projects including, but not limited to; flexible robotic solutions, custom automated machinery, drives and controls & custom PLC projects. They also offer a line of standard products developed for industry specific customers.
They are a robotic systems integrator at heart, representing leading global robotic OEM's. I say all this not to endorse or promote a particular company but rather put my guest's comments into context. I am pleased to welcome Michael McHale to our show.
Michael's Contact Info:
Michael McHale
mmchale@psasystems.com
https://www.psasystems.com/