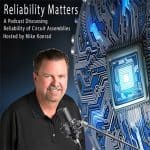 IPC Validation Services & the Trusted Supplier Program
Like most manufacturers, the electronic manufacturing industry relies on countless suppliers to fulfill its manufacturing needs. I'm quite certain there is no one within the EMS space who fabricates their own boards using materials produced in house, operates their own semiconductor foundries, designs and manufacturers their own components, and produces soldering materials for their reflow process. Our industry relies on a vast network of manufacturers throughout the world to build even the simplest electronic assembly.
Intellectual property security, cyber security, national security, are all hot topics today. No one wants their hard-earned intellectual property stolen. This is most true within The US military establishment. There are, at present, numerous policies, procedures, and regulations designed to protect various parts of our supply chain from unscrupulous people and companies.
Today, companies are concerned about "controlled unclassified information" (CUI) and "controlled technical information" (CTI). That brings us to IPC-1791. What is IPC-1791? My guest today, IPC's Randy Cherry will explain.
Randy is Director of Validation Services at IPC. Validation Services is a series of certification programs that qualify products and processes to the IPC industry standards.
Once companies have completed their certification they are listed as an IPC Trusted Supplier on the IPC Validation Services website.
Randy has over 30 years experience in Engineering with Printed Circuit Board and Backplane fabs, High-Speed Pressfit Backplane Connectors, and SMT (Surface Mount Technology) Assembly practices. He is a certified SMT Process Engineer and an IPC Auditor, and, he's my guest today on this episode.
Randy's Contact Info:
Randy Cherry | Director, Validation Services
IPC
3000 Lakeside Drive, Suite 105 N,
Bannockburn, IL 60015
Office: +1 847-597-2806
Mobile: +1 630-470-4721
randycherry@ipc.org
www.ipc.org
www.ipc.org/validation