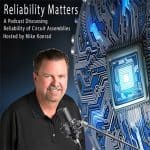 A Preview of the Upcoming SMTA Pan Pacific Microelectronics Symposium
Welcome back to another episode of the reliability matters podcast. For those who are counting, this is episode number 108. SMTA is well known for producing high-quality relevant technical conferences and symposiums. This includes, among others, the technical conference held at SMTAI, the High reliability cleaning and coating conference, the symposium on counterfeit parts and materials, the Advanced Electronics Assembly Conference, the Wafer-Level Packaging Symposium, the Electronics in harshenvironments conference, and, perhaps my favorite, the Pan Pacific microelectronics symposium, often referred to as PanPac.
PanPac is unique in many ways beginning with its venue. PanPac is held annually at one of the Hawaiian islands. This fact alone makes this symposium stand out. But there are many other factors that make this symposium unique. Let me quote from PanPac's steering committee:
The Pan Pacific Microelectronics Symposium strives to build bridges and nurture relationships across all boundaries; oceans and cultures, industries and technologies, companies and individuals. Its location in Hawaii always provides the requisite isolation from day to day distractions necessary to support these goals and enhance personal face to face interactions. The Pan Pacific continues its mission of building the vision and future directions for the electronics industry!
PanPac 2023 is scheduled for January 30 – February 2, 2023
At the Sheraton Kauai Resort on the beautiful island of Kauai.
While I love attending technical conferences and symposiums just for the educational opportunity, PanPac there's just something special about this conference. While all conferences provide an element of networking, I have forged many new relationships, friendships, and collaborative agreements with fellow attendees and speakers. Perhaps it has something to do with being on a tropical island for a few days with like-minded people. To talk more about the upcoming Pan Pacific microelectronics symposium, I invited to colleagues who are instrumental in curating the technical contact for this symposium. Dr. Chuck Bauer, one of the original creators of this symposium and Keith Bryant join me to discuss the conferences technical tracks and
presentations as well as their view on what makes this conference unique.
More Information:
https://smta.org/mpage/panpac/