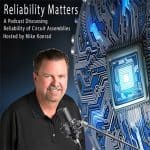 A Decade of Industry 4.0 – What it Was – What it Wasn't
Industry 4.0, the fourth industrial revolution. Beyond the buzzwords, what does this mean? My guest today is David Graham, Chief Technology Officer of 4IR.UK, a wholly owned subsidiary of Internet of Things focused, British Systems. 
4IR.UK specializes in creating Monitoring, Control and Automation solutions, often based on the MultiPlug Edge Computing Platform, for manufacturing environments. They also provide consultancy and development for other Industry 4.0 platforms.
I was intrigued by a webinar presented by David entitled "A Decade of Industry 4.0 – What it wasn't, what it was, and today, I'll speak with David about his thoughts, experiences, and opinions of Industry 4.0.
David's Contact Info:
David Graham
david.graham@4ir.uk
www.4ir.uk