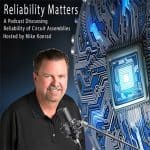 A Conversation about Counterfeit Component Detection with Dr. Eyal Weiss
We are all aware of the "oldest profession in the world". Perhaps the second oldest profession is counterfeiting. Whenever a product is introduced, a counterfeit version soon follows. While the electronics industry has experienced counterfeit components from its inception, recent events such as the pandemic and supply chain shortages have fueled the counterfeit industry.
Statistics by the Semiconductor Industry Association (SIA) reveal that the counterfeiting of electronic parts in the US alone, cost the chip industry more than $7.5 billion in revenue annually. According to new data from the ERAI, a global information board for counterfeiting, reports of counterfeit electronic products are growing. Although it is difficult to put an exact figure on just how many counterfeit products are in circulation, estimates suggest that consumer and industrial businesses lose approximately $250 billion each year due to counterfeit parts.
To talk more about counterfeit components and detection technologies, I invited Dr. Eyal Weiss, Founder and CTO of Cybord to be my guest. Dr. Weiss received his Ph.D. in Electronic and Computer Engineering from BGU (Ben-Gurion University) in Israel
As well as a Masters in Plasma Physics and bachelors cum laude in Mechanical Engineering from the Technion–Israel Institute of Technology.
He worked as a researcher on pulsed plasma at Soreq Research Center (SNRC). He then worked as a technology department manager in the high-tech fiber-optics industry. He was the technology manager at Lynx Photonics and then at Explay, developing state-of-the-art Silicon and optical chips production, packaging, and assembly production lines. He developed a new fiber-pigtailing and packaging technology and built full-scale production lines utilizing this new technology.
He returned to Soreq SNRC and for 15 years served as manager and leading scientist of the R&D Systems Department. He built mass-production lines and assembly lines for new sensors technology and developed their test equipment. He has twice received the prestigious Israel Defense Prize.
In 2018, he founded and became CTO of Cybord, developing electronic component qualification and authentication technologies. He is a member of the Israel Innovation Authority, Euramet, SAE, and IPC committees. He specializes in multidisciplinary technology development and has received significant awards and accolades in the fields of machine learning, plasma physics, optical assemblies, laser technology, and electromagnetics.
Dr. Weiss is an expert in technology development and manufacturing technology and has published over 20 peer-review articles, 4 patents, and a book, and, I'm happy to say, he's my guest on this episode of the Reliability Matters podcast.