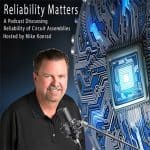 The Remarkable Return of the Post-Reflow Cleaning Process
On this show, we've discussed many aspects of the Electronics assembly process. We talked about reflow, thermal management, printing, soldering materials, additives, and so much more. What do all these topics have in common? When done correctly, they all contribute to the reliability of circuit assemblies.
Today, we're going to dive into the subject of cleaning circuit assemblies after reflow. For many assemblers, the cleaning process was replaced by the use of no clean flux technology. Time and technology have eroded the concept of allowing all residues to remain on the assembly. Today, residue caused failures are such a concern, that IPC recently and radically changed the way circuit assemblies are considered to be clean.
My guests today are Sal Sparacino and Eric Camden. Sal is Director of Sales at Zestron Americas, located in Manassas Virginia. Zestron is a manufacturer of cleaning chemicals for the electronics industry. Eric is Lead Investigator for Foresite, an analytical laboratory based in Kokomo Indiana. Eric, is the guy you call when things go wrong. Together with my experience as a cleaning equipment manufacturer, we'll discuss how cleaning contributes to increased reliability, and we'll review the reasons cleaning has returned as a mainstream assembly process.
Guest Contact Info:
Sal Sparacino
sal.sparacino@zestronusa.com
https://www.zestron.com
Eric Camden
ericc@foresiteinc.com
https://www.foresiteinc.com