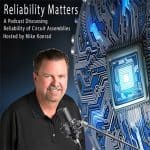 Making Sense of "Big Data"
You don't have to be in the tech industry you understand importance and value of data. Industries have always collected various sets of data, first manually and, in modern times, automatically. The volume of data has historically been limited to the ability to capture and store it. Recent advances in technology have vastly increased the ability to capture and store data. The industry 4.0 movement has fueled both of desire and requirement to capture data.
We have created a "be careful what you ask for" scenario as we now are capturing data at an unprecedented rate but frequently lack the ability to discern and analyze all of our newly captured data.
My guest today, Luisa Herrmann, Head of Product for Arch Systems, is helping to transform "big data" into useful data. Luisa has 10 years of experience in Product Management and Product Marketing, launching products, building teams, and scaling organizations in the data software space. She was most recently the Head of Product at Cape Privacy, an encrypted machine learning company, and before that she was the Head of Product at expert.ai, an NLP company. She has a degree in Chemical Engineering from the University of Pennsylvania and lives in the Boston area.
Luisa Herrmann may be contacted here:
lherrmann@archsys.io