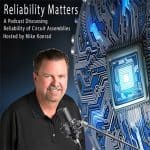 Quantum Mechanics Explained
I first met my guest at the SMTA Pan Pacific Symposium in Hawaii this past January. He was presenting a paper entitled Quantum Technology, A Theoretical Overview of the Possibilities. The more I listened to and watched his presentation, the more I wanted to learn about quantum physics and mechanics. So I selfishly invited him onto my show today so I could learn more, and perhaps you can too.
My guest today is Dr. James Whitfield. Dr. Whitfield is an associate professor of physics at Dartmouth. He earned his Bachelor's of science and chemistry and mathematics from Morehouse University and his PhD in chemical physics from Harvard University. He was a postdoctoral fellow at Columbia University in New York, Vienna Center for Quantum Science and Technology in Vienna and Gant University and Belgium, and he is currently an Amazon visiting academic and even better than all that, he's my guest today on the Reliability Matters Podcast.