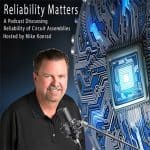 Introduction to HALT – Highly Accelerated Life Testing with Dr. Christopher Jackson
We all strive to build products that are reliable. If you're listening to our watching this podcast, chances are you are concerned about or at least interested in reliability. Where does reliability start? Who is responsible for reliability? What types of reliability testing can be performed? My guest on this episode will help answer these and other reliability-based questions.
My guest today is Dr. Christopher Jackson. Dr Chris Jackson is a leader, engineer and logistic specialist who has helped many organizations work towards realizing business goals through improving the reliability of their products and processes. He is cofounder of online training company IS4, founder of Acuitis Reliability, established the Center for the Safety and Reliability of Autonomous Systems (SARAS) at UCLA after retiring as a lieutenant colonel having served 17 years in the Australian Army, where he was the Senior Reliability Engineer. Dr Jackson completed his PhD in Reliability Engineering at the University of Maryland in 2011.
Dr Jackson authored multiple reliability and management textbooks and teaches both professional education courses and post-graduate courses. Industries he has helped range from small satellites through to military vehicles. Dr Jackson is a Certified Reliability Engineer (CRE) through the American Society of Quality (ASQ), a member of the Institute of Engineers, Australia (MIEAust) and a Chartered Professional Engineer (CPEng).
Chris was a guest on this podcast back in June of 2020 (episide 45) and I'm thrilled to have him back as my guest today.
Dr. Jackson's Contact Information:
chris.jackson@acuitas.com
https://www.acuitas.com