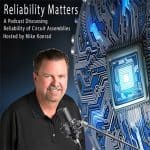 Ask the Experts – A Conversation with Phil Zarrow & Jim Hall
Welcome to another episode of the Reliability Matters podcast. For those of you keeping track, this is episode number 127.
In recent episodes, we've covered high-level issues, such as hiring best practices, novel, training, methods, design for manufacturing, highly accelerated, life, testing, and more. On this episode, we're going to go back to the basics. What common problems are assemblers experiencing today? What are the basics of assembly best practices? Which problems seem to live in perpetuity?
To answer these and other questions, I've invited two of my favorite experts on to the show. If you've been in the electronic assembly industry for some amount of time, there's little doubt you've heard of Phil Zarrow and Jim Hall. Phil has been involved with PCB fabrication and assembly for more than 36 years. Phil is the President and Principal Consultant of ITM Consulting. Jim Hall has been involved in the electronic assembly industry for the past 27 years. He's a principal consultant and resident Lean Six Sigma Master Black Belt with ITM Consulting. He's also an instructor in the Lean Six Sigma programs offered at Dartmouth College. Together with Dr. Ron Lasky, Phil and Jim designed the SMTA's SMT Processes Certification Course.
A couple of years ago, Phil and Jim published a book in titled "troubleshooting electronic assemblies, tales from the board talk crypt". I'll talk to them more about that book later in this broadcast.
Phil and Jim host the popular audio series "Board Talk" a question and answer show hosted on the Circuit-Insight website. On their show, you'll hear serious questions, and often comical but real answers.
Phil Zarrow's Contact Info:
phil_zarrow@itmconsulting.com
Jim Hall's Contact Info:
jim_hall@itmconsulting.com
ITM Consulting: