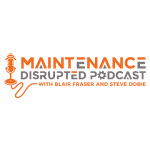 MD 145 Rethink How You Collect Your Asset Data
The importance of knowing what equipment we have where is the foundation of all of our reliability improvement initiatives, but do we truly know what we have? For most of us, the answer is no, we have an idea but not the fine details. Typically triggered on an event like a company merger or new capital projects, we send our highly skilled workers into the field to start collecting data, a lot of it. And this has been accepted as the way it is.
There has to be a better way, and income Imagine recognition, AI, and proven practices and applications to increase the accuracy of the data and significantly reduce the amount of effort to collect and make sense of this data. I promise you, if you ever have to collect asset data again, you will want to listen to this podcast with Stephen Crampton of Utopia.
Connecting with our Guest Here:
Stephen Crampton –  https://www.linkedin.com/in/stephencrampton/

If your company sells products or services to engaged maintenance & reliability professionals, tell your marketing manager about Maintenance Disrupted.  If you'd like to discuss advertising, please email us at maintenancedisrupted@gmail.com
Check out our website at www.maintenancedisrupted.com and sign up for the weekly disruption newsletter with bonus content. If you like the show, please tell your colleagues about it and follow maintenance disrupted on LinkedIn and YouTube.
Follow Maintenance Disrupted on LinkedIn
https://www.linkedin.com/company/maintenancedisrupted
Music: The Descent by Kevin MacLeod
Link: https://incompetech.filmmusic.io/song/4490-the-descent
License: http://creativecommons.org/licenses/by/4.0/
Sponsorships: off for this episode