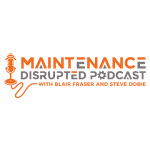 MD 169 How parts fail with Shane Turcott & Sanya Mathura
Do you understand how your parts fail? What story are they telling you?
In this episode we welcome Shane Turcott & Sanya to the show to discuss how parts fail. Sanya & Steve recently took Shane's course and loved it so much they wanted to do a special episode on it. Tune in and learn what great information was shared and how maintenance teams can use the information a failure surface of a fracture.
Shane Turcott: https://www.linkedin.com/in/shane-turcott-3a2ab51b/
Steel Image: https://steelimage.com/
Sanya Mathura: https://www.linkedin.com/in/sanya-mathura-mle-362438129/
Strategic Reliability Solutions http://strategicreliabilitysolutions.com/
If your company sells products or services to engaged maintenance & reliability professionals, tell your marketing manager about Maintenance Disrupted.  If you'd like to discuss advertising, please email us at maintenancedisrupted@gmail.com
Check out our website at www.maintenancedisrupted.com and sign up for the weekly disruption newsletter with bonus content. If you like the show, please tell your colleagues about it and follow maintenance disrupted on LinkedIn and YouTube.
Follow Maintenance Disrupted on LinkedIn
https://www.linkedin.com/company/maintenancedisrupted
Music: The Descent by Kevin MacLeod
Link: https://incompetech.filmmusic.io/song/4490-the-descent
License: http://creativecommons.org/licenses/by/4.0/