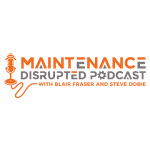 MD 182 Maintaining Mobile Equipment W/ Bryan Bieschke
How well is your mobile equipment maintained? How is mobile equipment different from fixed equipment? How can you maintain your mobile equipment better?
Join Bryan Bieschke and Steve Dobie as they talk everything mobile equipment maintenance!
Episode Shout Outs:
Bryan Bieschke – https://www.linkedin.com/in/bryan-bieschke-cmrp-221a05ba/
If your company sells products or services to engaged maintenance & reliability professionals, tell your marketing manager about Maintenance Disrupted.  If you'd like to discuss advertising, please email us at maintenancedisrupted@gmail.com
Check out our website at www.maintenancedisrupted.com and sign up for the weekly disruption newsletter with bonus content. If you like the show, please tell your colleagues about it and follow maintenance disrupted on LinkedIn and YouTube.
Follow Maintenance Disrupted on LinkedIn
https://www.linkedin.com/company/maintenancedisrupted
Music: The Descent by Kevin MacLeod
Link: https://incompetech.filmmusic.io/song/4490-the-descent
License: http://creativecommons.org/licenses/by/4.0/