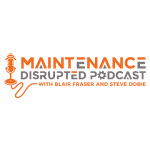 MD 190 Beyond Safety Compliance W/ Tanya Hewitt
Is safety one of your companies core values? What is a core value? How can we actually improve safety?
Safety is always a topic at the forefront of maintenance tasks. Are we taking the correct approach to safety? Or is there a better way? This week we welcome Tanya Hewitt to the show to discuss her company, Beyond Safety Compliance. We learned a lot talking with Tanya and we are very excited to bring this episode to you.
Episode Shout Outs:
Tanya Hewitt: https://www.linkedin.com/in/tanya-hewitt-55804529/
Beyond Safety Compliance: https://www.beyondsafetycompliance.ca/
Webinar Series: https://www.eventbrite.com/o/beyond-safety-compliance-31631619159
If your company sells products or services to engaged maintenance & reliability professionals, tell your marketing manager about Maintenance Disrupted.  If you'd like to discuss advertising, please email us at maintenancedisrupted@gmail.com
Check out our website at www.maintenancedisrupted.com and sign up for the weekly disruption newsletter with bonus content. If you like the show, please tell your colleagues about it and follow maintenance disrupted on LinkedIn and YouTube.
Follow Maintenance Disrupted on LinkedIn
https://www.linkedin.com/company/maintenancedisrupted
Music: The Descent by Kevin MacLeod
Link: https://incompetech.filmmusic.io/song/4490-the-descent
License: http://creativecommons.org/licenses/by/4.0/