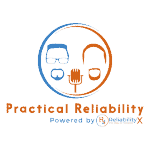 Paul Dufresne, CEO of Reliability Playbook
Paul Dufresne has been president and CEO of Reliability Playbook since 2017, following 31 years of experience in maintenance and reliability roles in the U.S. Military and at Georgia Pacific, Trico Corporation and Koch Industries. After the military, he spent the next several years in the corporate world designing and implementing reliability and maintenance programs focusing on industry best practices and achieving superior results while serving in a variety of roles in maintenance management and reliability leadership. In 2013, he received the Senior VP Award for Reliability from GP.

Since starting his company Paul has worked with his customer base around improving and setting in place a culture of excellence as it pertains to plant lubrication and maintenance and reliability best practice. Through training, coaching and mentoring plant personnel at all levels in the organization, Paul works to create an atmosphere where everyone succeeds. Incorporating knowledge from his military and business careers, Paul uses a hands-on approach to help customers across the globe develop and implement world class maintenance and reliability programs. Paul has experienced many successful results throughout his career and was recently identifed on LinkedIn as one of the Top 100 People in Maintenance and Reliability to follow.
During this time Paul has also been a fetured speaker and keynote presenter at multiple national and international conferences most recently the 2019 CBM Connect Conference's in Abu Dhabi and Belgium.
Paul is the past chairman of the Society of Maintenance and Reliability Professionals Best Practices Committee. In 2017, Paul was recognized as SMRP's Volunteer of the Year. He is a member of the Society of Tribologist and Lubrication Engineers and the Industry Council for Machinery Lubrication where he is very active sub-committee work. He holds credentials through STLE as Certified Lubrication Specialist (CLS); through ICML as a Certified Machinery Lubrication Engineer (MLE) and Maintenance Lubrication Technician Level I (MLT I); through Mobius Institute as a Asset Reliability Practitioner (ARP-E); through SMRP as Certified Maintenance and Reliability Professional (CMRP) and Technician (CMRT); through the Association for Facilities Engineering as Certified Plant Maintenance Manager (CPMM); and through the Association of Asset Management Professionals as Certified Reliability Leader (CRL). Paul is certified in predictive maintenance technologies such as vibration analysis and thermography. He has written several articles and technical white papers, and is a frequent presenter and workshop facilitator at industry conferences.
Paul is a Distinguished Military Graduate, and has a bachelor's degree in history with a minor in military science from the University of Central Florida. He and his wife, April, have four children.