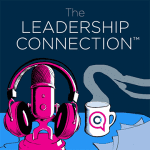 Leadership Connection Interview with Drew Troyer
The Leadership Connection Host, Doug Plucknette, interviews reliability leader Drew Troyer in Episode 28 of this series.
Drew brings nearly 30 years experience and thought leadership in the fields of manufacturing reliability engineering and physical asset management. He believes that most organizations in the physical asset-intensive industries have a tremendous opportunity to improve the uptime, profitability, safety and environmental performance of their plants and physical assets with a dedicated focus on reliability-driven practices.
More About Drew
Holding Certified Reliability Engineer (CRE), Certified Maintenance & Reliability Professional (CMRP) and MBA qualifications combined with nearly 30 years in the trenches, he possess the knowledge and the skills to help you unlock your potential and recover your "hidden plant."

He's also very passionate about sustainability and other environmental matters. He's currently pursuing a master's degree in sustainability at Harvard, where he's emphasizing sustainable manufacturing and land use practices. He serves on ASTM E60.13, the committee for sustainable manufacturing. He confounded the Compatible Lands Foundation (CLF) and He's a very active board chairperson.
We hope you enjoy this episode!